Aleixo Shake & Shine is made from the grapes Maria Gomes and Bical and is produced by the Portuguese winemaker Real Cave do Cedro, located south of Porto.
Real Cave do Cedro has been producing wines since 1951 and has been managed by the Aleixo family since their founding.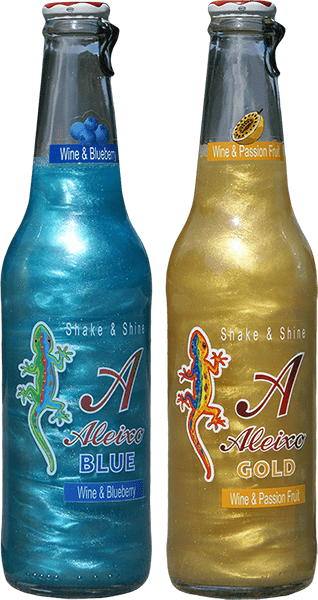 Shake & Shine
Aleixo Blue & Aleixo Gold are two wonderfully fresh wine-cocktails with a touch of blueberry and passion fruit respectively. Enjoy well chilled, straight from the bottle or poured into a large glass with ice.
Shake the bottle and it will magically shine. Aleixo Blue & Aleixo Gold are sugar-free. A refreshing and super cool product that spreads a little extra glamour to the party!
Comes in two flavors:
Aleixo Blue - wine/blueberry
Aleixo Gold - wine/passion fruit
30 sek - 5,5% - 33 cl
Sugar free - Shake & Shine
30 sek - 5,5% - 33 cl - Sugar free - Shake & Shine
Contain sulphites
Contain sweeteners
Gluten free - Vegan friendly
Origin Portugal
Contain sulphites - Contain sweeteners
Gluten free - Vegan friendly - Origin Portugal
Contain sulphites - Contain sweeteners - Gluten free - Vegan friendly - Origin Portugal
Enjoy cold and please
drink responsibly