Welcome to our world
W&B of Sweden AB was founded in 2010 with the idea of creating exciting and innovative alcoholic beverages of highest quality and with the vision of spreading them around the globe.
Today W&B of Sweden is the company where experience and knowledge are integrated in perfect harmony and where the Scandinavian principles of high quality and attention to details are followed. These principles guide us in the creation of our unique products.
As an additional part of our business, we import quality products from around the world that meet our high standards, giving renowned producers access to the Scandinavian markets.
We believe and hope that you'll find our product portfolio just as exciting as we do.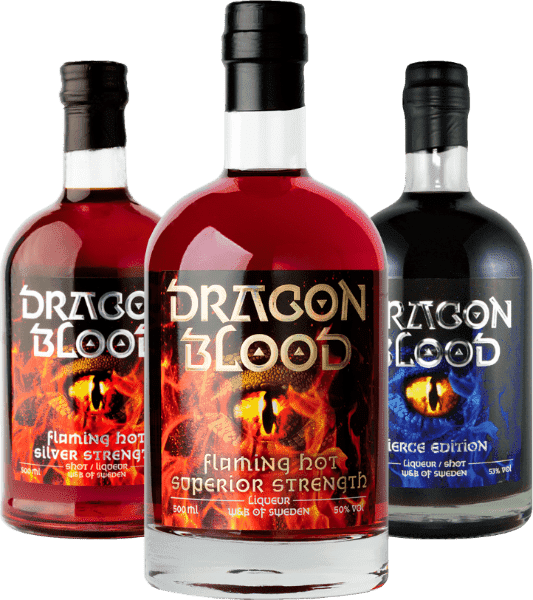 Dragon Blood
A thousand years ago the Vikings made the famous Swedish carvings telling the saga of the brave man Sigurd who tasted a drop of blood from the fire-spitting dragon Fafner, making him immortal.
Where the dragon has been hiding during all these years is a mystery and many are those who have tried to localize it. But so, in 2015, just a couple of miles from the historic carvings, an intensive red brew was created. The exact content is a well-kept secret but the name is Dragon Blood®...
Dragon Blood is produced in accordance with Swedish distilling traditions going back to the 17th century. Dragon Blood, with a base of 100% grain ("vodka base"), is a liqueur of premium quality made only with natural ingredients. Dragon Blood is vegan friendly.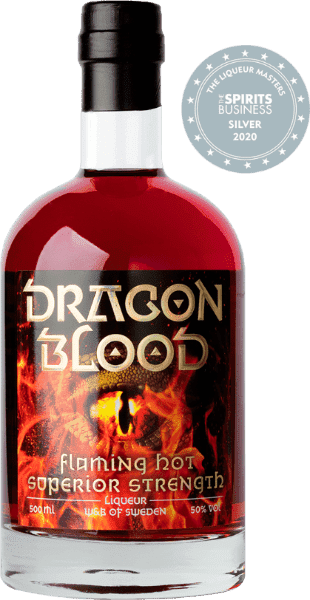 Superior Strength
Dragon Blood Superior Strength - the original - is 50% vol. (100 proof) strong. A fruity beginning is followed by a very mild touch of cinnamon before the sensation of burning Peri-peri pepper kicks in. A product to mix extraordinary drinks with but also to be enjoyed as an ice cold shot, for those who dare...
Here are some really tasty drinking tips. Enjoy!
Many more drinking tips will be found at Dragon Blood's webpage.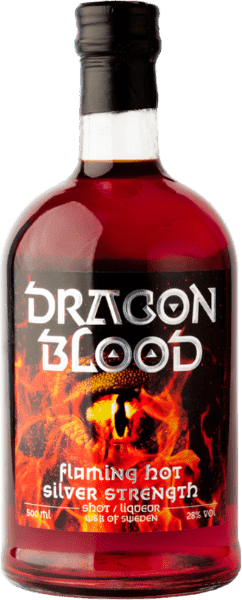 Silver Strength
Dragon Blood Silver Strength has the same fantastic taste profile as the original - Dragon Blood Superior Strength - but with a lower alcohol content, 28% vol. (56 proof). It´s awesome to enjoy as an ice-cold shot or to mix extraordinary drinks with.
Here are some really tasty drinking tips. Enjoy!
Many more drinking tips will be found at Dragon Blood's webpage.


Fierce Edition
*** SOLD OUT ***
Congratulations and thanks to all of you who successfully managed to get a bottle of this superb beverage!

Dragon Blood Fierce Edition is an exclusive limited edition, only 1722 bottles made. Salty licorice, strawberry and extra chili in perfect balance. It´s 53% vol. (106 proof) strong, so beware of the dragon. Now only a very few bottles left.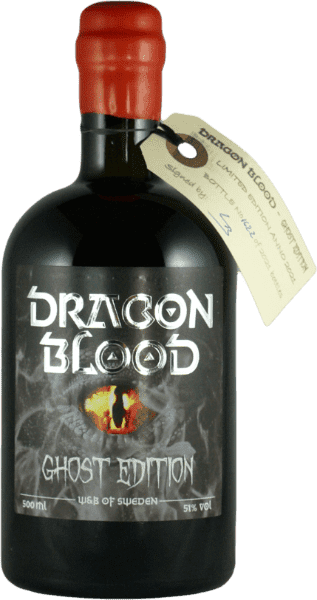 Ghost Edition
Dragon Blood Ghost Edition 51% vol. (102 proof) is extra spicy and exclusively hand crafted. Limited to only 2021 bottles.
This unique version of Dragon Blood has a fruity beginning with a hint of cinnamon which is followed by the very hot and burning sensation from Naga Bhut Jolokia, also known as Ghost Pepper.
In this small batch a special pepper blend - made by selected chili spices - is used. Every bottle is numbered, signed and sealed with genuine bottle wax.
Mix amazing drinks, or if you dare - enjoy it straight! Only a few drops of this highly concentrated elixir might be enough for you, hence the bottle will last for loooong.
Please beware! Ghost Editon is hot and we mean HOT!


Mintare
Mintare gives you the Swedish winter in a bottle; cold but gentle and crisp at the same time. The freshness of peppermint in combination with a soft sweetness has been a classic Nordic taste for decades.
Mintare is made from pure grain alcohol ("vodka base") and water mixed with all natural sugar and peppermint oil, without coloring agents or other unnecessary additives. Mintare is vegan friendly.
Mintare is certainly avant-garde since it has:
A lower sugar content
Reduced alcohol content (15% vol./30 proof)
A soft and balanced taste of peppermint
Light-weight glass bottle
During the harsh cold months of winter as well as under hot summer days, peppermint shots/liqueurs are certainly a popular choice and are great in combination with your beer or other favorite beverage.
Mintare is preferably enjoyed chilled as a pleasant and fresh shot, on the rocks, or as a drink base. Try it with hot cocoa and you will be amazed!
Here are some delicious drinking tips. Enjoy!


Arouz
Arouz is our way of spelling the word "arouse". A really tasteful and exclusive shot that gives the party a kick start. Arouz The Caffeine Shot was created back in 2010 with the brilliant idea of combining a shot with invigorating caffeine. One shot (4 cl) contains about as much caffeine as half a cup of coffee.
To create Arouz Salty Licorice, the finest alcohol from grain ("vodka base") and purified water is mixed with licorice powder from the licorice root, cane sugar, salmiac powder and finally infused with natural pure caffeine extracted from coffee.
Arouz Salty Licorice is 30% vol./60 proof and has an elegant taste of salty licorice with a balanced sweetness.
Arouz is to be enjoyed as an ice cold shot, on the rocks or to sip on as a delicious after dinner digestif/avec.
Cocktail tip: Arouz Salty Licorice + raspberry soda + ice cubes=Goooood.